June 12, 2018
Message from Superstar Teacher Management
We have received many enquiries with regards to the following newspaper apology published on The Straits Times on 30/05/2018.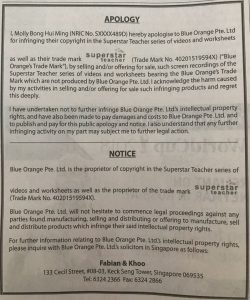 We are saddened to know that the effort and hard work we put in to produce top quality videos for our customers have been recorded and resold by Molly Bong. We had no choice but to take legal action against her as she has infringed our copyright and our rights in the registered Trade Mark.
We wish to state that we take pride in all our products and constantly strive to provide the best for our customers. As such, we hope that you would continue to support us and purchase only from authorised personnels.
– Superstar Teacher Management