September 17, 2020
Tracking Your Child's Learning: The Fuss-Free Way
In this blog post, we will be sharing more about the recently-revamped version of the Study Tracker tool and how you can make full use of its features to help your child learn better and shine brighter.
What is the Study Tracker all about?
The Study Tracker is a one-stop solution for parents to keep track of their children's activities on the Superstar Teacher platform. It includes detailed and personalised analytics on how your child has progressed with learning in terms of the following features:
Lessons viewed
Auto-Marking Assessments completed
Questions asked through Instant Homework Help
To access the Study Tracker, simply log in to the Parent Portal and click into your child's profile.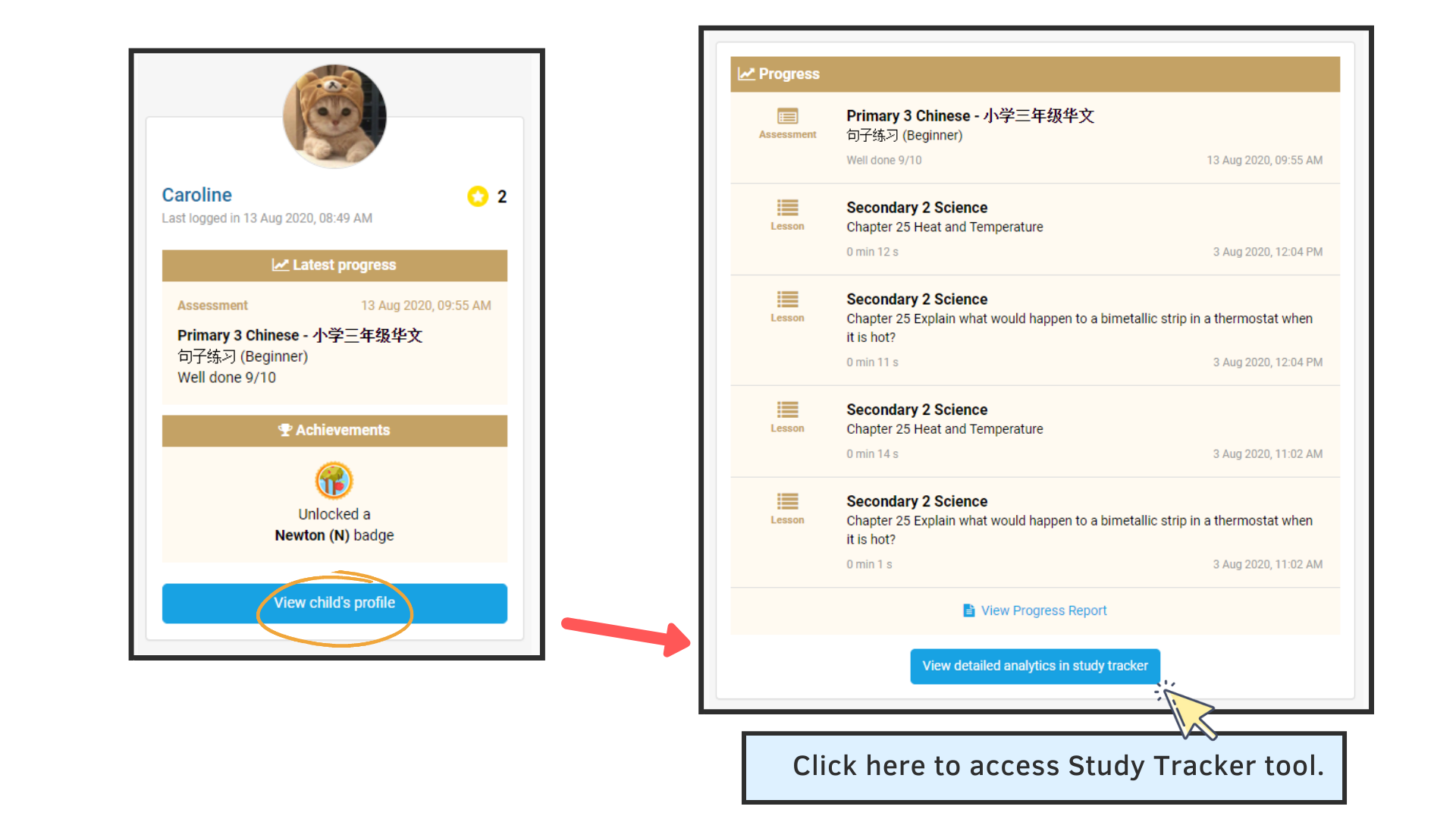 1. Lessons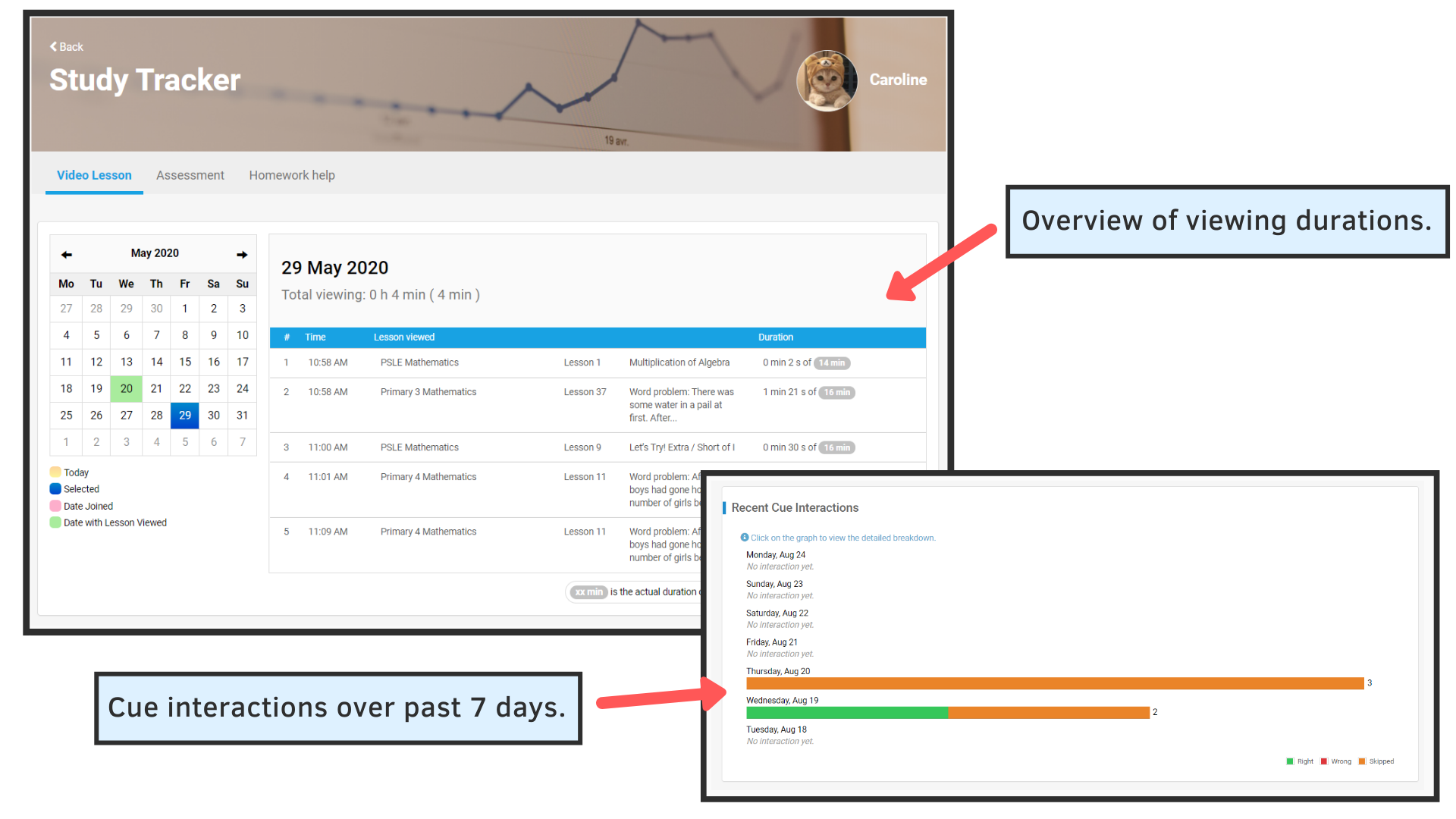 Under the Video Lessons tab, you can get an immediate overview of the lessons your child have gone through on the day itself and find out if your child has successfully completed the full duration of a particular lesson.
The dates on which your child has accessed the platform and viewed lessons will be indicated in green on the calendar. Simply click on the various dates to view the lesson history.
Recent Cue Interactions refer to the completion of interactive quizzes embedded within the video lessons over the past 7 days. Based on the proportions of correct and incorrect responses, you can see if your child is managing well in terms keeping up and understanding what has been taught during the lessons.
2. Auto-Marking Assessments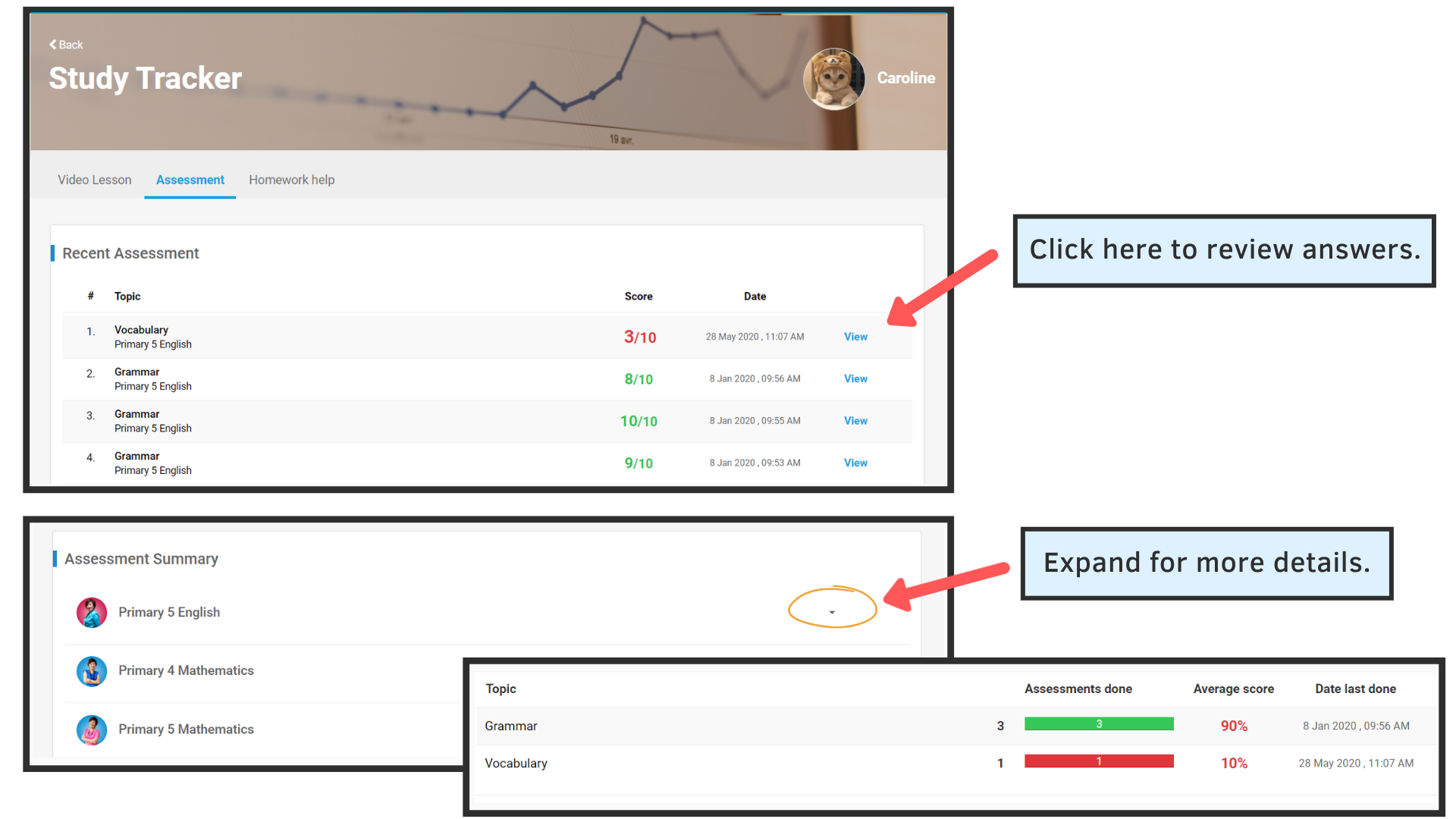 Switch to the Assessment tab to view your child's performance in recent assessments attempted.  Click on "view" to go to the results page of a specific assessment. Here, you can see which questions your child has answered incorrectly and find out the percentages of other students who have given the correct response to the various questions.
Within the Assessment tab, there is also an Assessment Summary that enables you to see the number of assessments completed for each course title and the average score for each individual topic. Based on the scores, you can suss out topics and/or subjects that your child is weaker in and guide him or her to focus more on them.
3. Instant Homework Help

Lastly, go to the Homework Help tab to view recent homework help sessions your child was engaged in and track the number of star tokens used. Click into the sessions to view entire conversations your child has had with our expert mentors.
Monthly Progress Reports
Are you a busy parent who is always on the go? A summary of the above analytics can also be found in the form of monthly progress reports! These reports will be sent to parents through SMS notifications at the end of the month, with previous reports accessible on the portal. This means that you can get an immediate overview of your child's learning progress straight from your mobile device without going through the hassle of logging into the Parent Portal.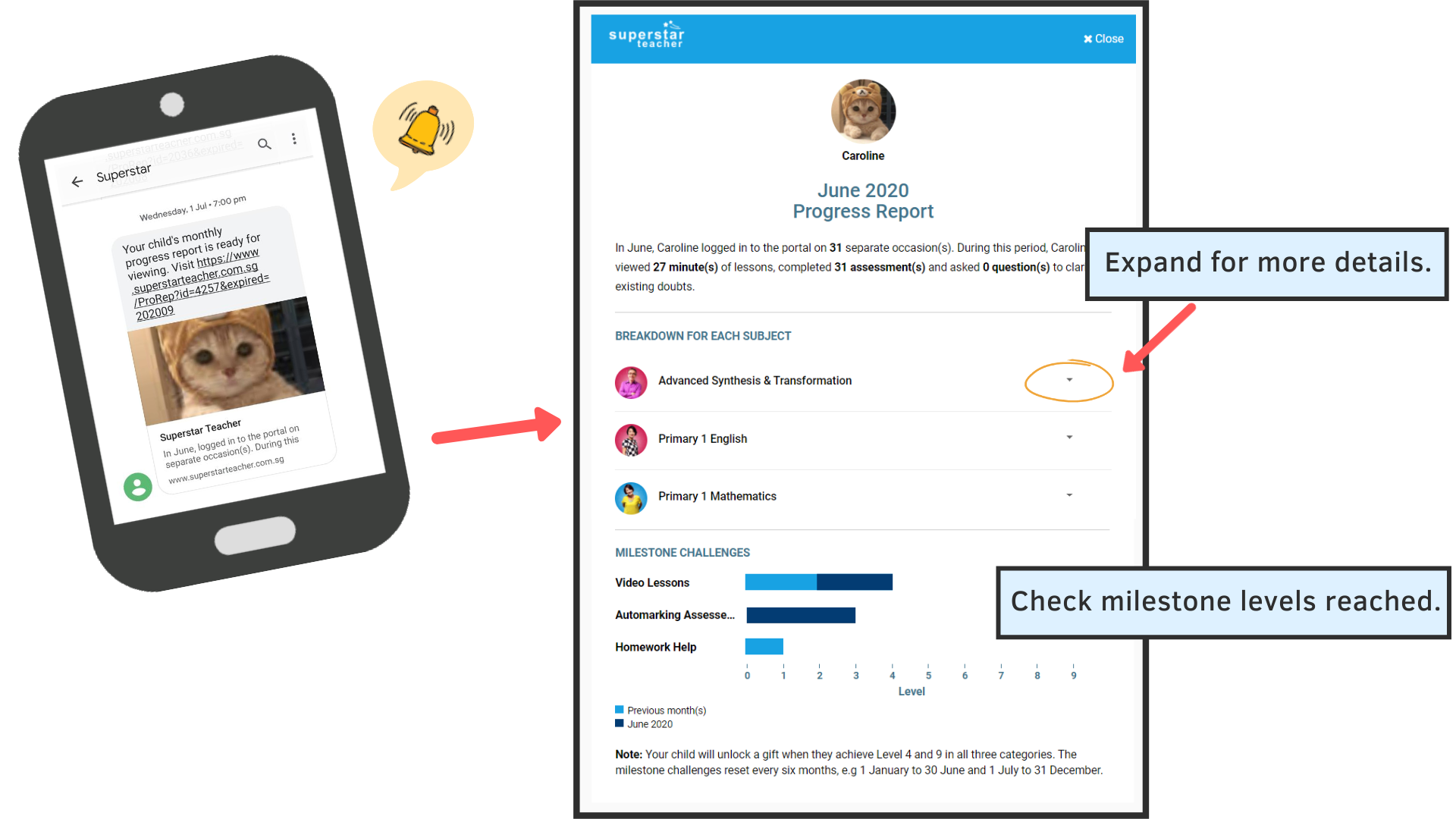 Tips for Parents
Before we end off, here are some additional tips on tracking your child's progress and using the Study Tracker to optimise learning.
Set learning goals and establish milestones

Discuss and set some goals with your child, making sure that both parties are aligned and have reached a consensus on them. These can be simple goals such as finishing two lessons within the week. Broader goals (with longer timelines) can be things like mastering a topic or unlocking a new badge.

Make use of progress reports and analytics

Learning is a journey that requires time and effort. The Study Tracker allows you to see if your child has been spending time on the platform  and putting in the necessary efforts in a consistent manner.

Review/reflect on strengths and weaknesses

Why is your child struggling with certain subjects or topics?
Identify challenges that your child needs to overcome
Adjust and set new learning goals based on current progress

Focus on improvements, not the A's

It can be alarming to see scores in red, but the focus should be on whether or not your child has made improvements on his or her weaker topics. Parents should have realistic expectations, so a steady and gradual progress is still good progress.
---
Let us be part of your child's education journey today! Do call us at 
63415516

or email us at enquiry@superstarteacher.com if you have any questions.