December 4, 2020
Choosing The Best Tablet For Your Kids
As a learn-on-the-go online learning service provider, parents often ask us for opinions on what devices work best for their kids' learning. We highly recommend the use of tablets, which is probably not the first thing that parents would think of. But the truth is, tablets are actually a great and practical alternative to laptops and computers. An immediate selling point would be their portability, as tablets are generally smaller, more lightweight and easier to carry around than laptops. All kids love tablets, but tablets aren't all alike. Here are some features that you should consider when getting a tablet for your child.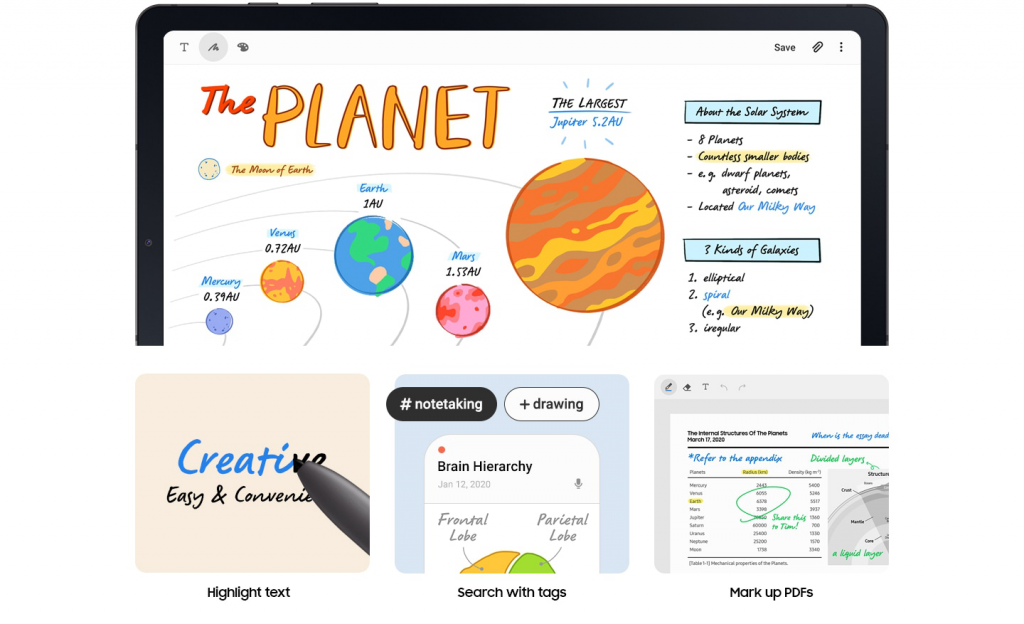 ✓ Screen size
Tablets come in a variety of screen sizes, from as small as 8-inches up to 12-inches or more. If the tablet will be used for content creation and online learning , a screen size of 10-inches or larger might be a better choice.
✓ Memory/storage
As your child runs multiple apps on-the-go, do find a tablet with at least 3-4GB as it ensures optimal learning experience. When downloading many worksheets during their e-learning lessons, do look out for a larger storage capacity to ensure sufficient space for downloaded files and documents.
✓ Digital pen or stylus
Depending on your child's needs, a built-in digital pen can help create a more engaging and natural learning experience. Completing worksheets directly on the tablet without printing them out makes for a more environmentally-friendly option, and serves to keep the motivation going.
✓ Wi-Fi, LTE or 5G
Some tablets depend on Wi-Fi, while others can connect to cellular networks (once you add a SIM card and carrier plan). If your child is learning on-the-go, do select the tablet that allows you more flexibility when it comes to connectivity.
✓ Battery life
Learning entirely from home involves a fair amount of screen time. Choose a tablet that provides a long-lasting battery life to minimise remote learning interruptions.
✓ Compatibility with apps and learning platforms
Most tablets can easily access popular remote learning tools or online lessons, such as Google Classroom. Take, for instance, the Superstar Teacher app. There is no need for any compromise as all of the platform's features (video lessons, assessments and homework help) are made available and optimised for a tablet's interface.
---
A good tablet for students is different from one that suits working adults. As a grown-up, you would want your tablet to be slim, light-weight and fast. However, a suitable tablet for your child is one that is affordable, rugged, and durable. So, here are a list of recommended Samsung tablets that can enable your child to learn better and shine brighter.
1. Samsung Galaxy Tab A7 10.4
A solid tablet for all uses
With a 10.4-inch Full HD display, the Samsung Galaxy Tab A7 10.4" gives your child an immersive visual experience for remote learning. This tablet also includes quad speakers and surround sound from Dolby Atmos, a huge 7,040mAh (typical) battery, 3GB of RAM and 64GB of internal memory. It comes with a 5MP front-facing camera and an 8MP rear-facing camera (with autofocus), so video-conferencing, assignments or homework help sessions involving photo/video-taking can proceed with ease.
2. Samsung Galaxy Tab S5e 10.5"
Best battery life
In a thinner and lighter frame, the Samsung Galaxy Tab S5e provides your child with a versatile workstation as it includes DeX, Samsung's platform that enables the tablet to deliver a full desktop computing experience when connected to a monitor and keyboard. DeX works with just about any monitor or TV with an HDMI port, and accessories such as the space-saving book cover keyboard.
The Galaxy Tab S5e also offers an exceptional visual experience with a corner-to-corner 10.5-inch Super AMOLED screen. This tablet is available as Wi-Fi-only or with unlocked LTE capabilities, which means that you can stay connected with your choice of cellular carrier. Battery life for the Galaxy Tab S5e is up to 14.5 hours on a single charge, and it comes equipped with either 64GB storage/4GB RAM or 128GB storage/6GB RAM. All these features make it a great choice for upper primary and secondary-level students who are completing advanced assignments and multitasking across multiple windows and apps.
 3. Galaxy Tab S7 and S7+
The first 5G-enabled tablets available in Singapore
With ultra-fast 5G connectivity, students can now unlock crystal-clear video-conferencing, lightning-fast downloads, and uninterrupted high-definition video streaming. For students who want more space to work, play and create, the new Galaxy Tab S7 and S7+ have even larger displays (11 inches on the S7; 12.4 inches on the S7+), a full-sized keyboard (sold separately) and support Dex capability.
Additionally, both devices offer an immersive 120Hz display, a newly updated S Pen, powerful Qualcomm® Snapdragon™ 865 Plus processor, with models ranging from 128GB storage/6GB RAM up to 256GB storage/8GB RAM (expandable memory to 1TB), and seamless integration into the Galaxy ecosystem. Both tablets come pre-installed with Samsung Notes for students who want to take handwritten notes on top of audio recordings. These notes can also be shared in various formats such as Microsoft Word or PowerPoint. In addition, students can now import PDF files and jot memos or make comments directly on them.

 3. Galaxy Tab S6 Lite and S6 Wi-Fi
Suitable for work and play
Both the Galaxy Tab S6 and S6 Lite come with an S pen, which is great for jotting down ideas in Samsung Notes, annotating on documents as well as artistic works.
The Galaxy Tab S6 Lite is a suitable tablet for everyday work with its 4GB of RAM, Exynos 9610 processor and 128GB of storage that will ensure enough space for your child's files and apps. For older students whose works may be more demanding, they can also go for the more powerful Galaxy Tab S6 that comes with at least 6GB of RAM and uses the powerful Snapdragon™ 855 processor. Students can also get a light desktop experience on the Galaxy Tab S6 with Samsung's DeX service and they can even connect a wireless keyboard and mouse for the full effect.
In addition, both tablets boast long-lasting battery life and will comfortably stand up to a pretty intensive day of learning and revision.
Let us be part of your child's education journey today! Do call us at 
63415516

or email us at enquiry@superstarteacher.com if you have any questions.